---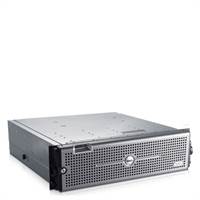 The PowerVault MD3000i networked storage array leverages the modularity and availability of the PowerVault series to deliver an IP network storage solution that can consolidate up to 16 hosts. By extending the connectivity capability of today's MD3000 controller architecture, Dell is able to bring to market a low cost, easy to use, expandable, and highly available iSCSI SAN storage array.
---
"The use of technology by students and teachers is rapidly growing in our school district, and we're running out of storage faster than we expected. The Dell PowerVault MD3000i storage system eliminates that problem because we can easily keep up with growth in a cost-effective way just by adding new drives when and where we need them."
-Peter Thompson, Manager of Information Technology, Princeton Regional School District
---
Consolidation Without Complexity

 

The PowerVault MD3000i is a high performance

iSCSI

Storage Area Network (SAN) designed to deliver

storage consolidation

and data management capabilities in an easy to use, cost effective solution.

 

• Consolidate up to sixteen (16) fully redundant servers, expand to support up to 45TB of data.

 

 

Entry-level Storage for Virtualized Environments:

Shared storage is required to enable VM mobility the key benefit of a virtual environments. The PowerVault MD3000i is a networked shared storage solution, providing the high availability, expandability and ease of management desired in virtual environments. Leverages existing IP networks and offers small and medium businesses an easy to use iSCSI SANs without the need for extensive training or new expensive infrastructures.

Learn More – Configuration guide for VMware ESX Server

 

Optimal Storage for Business Critical Applications:

The PowerVault MD3000i iSCSI SAN with dual Ethernet ports, redundant hardware and proactive notification can deliver the availability required of business critical applications like MicrosoftTM  Exchange and SQL. Support for 16 servers and modular scalability offer seamless growth to support your needs today and in the future.

PowerVault MD3000i Exchange Testing by Principled Technologies

Learn More – PowerVault MD3000i Microsoft Exchange ESRP Testing

 
---
"The Dell PowerVaultTM  MD3000i enables us to replace multiple direct-attached storage devices with one centralized recovery and management console for up to 16 servers and workstations. That makes storage management much simpler, saving time and labor costs for our limited IT staff."
- Jeff Wolfe, IT Director, College of Earth and Mineral Sciences, Pennsylvania State University. August 2007
---
Built for Availability

 

The Dell PowerVault MD3000i

iSCSI

provides functionality needed to help provided availability and protection needed, without adding complexity.

 

Redundant components:

Supports redundant active/active

RAID

controllers, management ports and power/cooling to provide real security at the hardware level.

Automated drive failure detection: Capable of automatically rebuilding a failed drive using an available hot-spare drive.

Intelligent battery monitoring: Intelligent software notifies you before the battery fails, helping to reduce unplanned downtime.

Hot-pluggable components: Remove and replace disk drives, storage controllers, power supplies, and cooling fan modules while the system remains running - without impacting operations.

RAID Levels:

Supporting

RAID levels

0, 1, 10, 5 and 6 offering flexibility in data protection and system performance characteristics.
---
"The dual controllers and other redundant features of the Dell PowerVault MD3000i help us deliver the high availability our clients in healthcare, banking, and finance require. We're able to dual-attach for greater redundancy and performance than a single-controller storage system could provide."
- Robert Boyle, CEO, Tellurian Networks. August 2007
---
Simple Yet Powerful Storage Management

 

The MD3000i iSCSI SAN delivers a seamless suite of intuitive task-based management capabilities. The Modular Disk Storage Manager can help automatically configure the system for optimal performance and availability.

 

Multi-host Management: Flexibility to manage the entire network from a single console.

Recovery Guru: A support tool that can diagnoses system problems and help determine an appropriate recovery procedure.
---
"Management tools in the Dell PowerVault MD3000i storage system are exceptionally well thought out, displaying a maturity that's comparable to second- or third-generation products. We were very impressed."
- Robert Boyle, CEO, Tellurian Networks. August 2007
---
Advanced Data Management

 

For advanced availability, the PowerVaultTM  MD3000i offers optional backup and data protection features; Snapshot and Virtual Disk Copy (VDC).

 

Snapshots are point in time copies of the data, so if a file is accidentally altered of deleted it can be recovered easily by reverting to a previous state. Snapshots can be taken instantaneously, minimizing application downtime.

Virtual Disk Copy (VDC) is a full, replicated copy of a source data taken at a discrete point in time, enabling quick and seamless virtual disk relocation, and disk based backup and recovery.

Learn more – Data Protection with PowerVault MD3000i Whitepaper
---
Excellent Drive Flexibility

 

The PowerVault

TM

  MD family enables organizations to mix

SAS

and

SATA

drives delivering excellent flexibility to align data requirements with drive capabilities, speed, capacity and cost, to help optimize your storage environment.

 

SAS for Performance

SAS

can deliver the speed, performance and reliability to satisfy mainstream single server applications. SAS performance makes it ideal for demanding server applications such as email or database applications that store active and frequently changing information.

 

NEW Nearline SAS - Performance of SAS, Capacities of SATA

The new 7.2K RPM SAS drives leverage the performance efficiencies of SAS making it ideal for customer who are looking for the low cost per GB but can't sacrifice performance. In everyday usage situations customers can see up to a 30% performance increase with the 7.2 RPM SAS drive over the 7.2 RPM SATA drives.
SATA for Capacity

SATA

disk drives deliver a compelling cost-per-Gigabyte alternative to SAS. SATA drives are ideal high capacity applications where data is accessed and modified less frequently, such as digital imaging, file archiving, audio/video storage, or back-up to disk applications.

 

NEW Energy Efficient SATA - Superior GB per Watt Solution

The new 5.4K RPM SATA drive offers customers a high capacity, energy efficient alternative to traditional SATA drives. Ideal for capacity intensive applications in a power constrained environments. This 5.4K RPM SATA drive can reduce power consumption up to 30% with less than a 10% degradation in random I/O performance over some 7.2K RPM SATA drives.

 

 
---
Active RAID Controllers

 

RAID controllers are the brains that govern everything that occurs within the PowerVault MD3000i storage enclosure, performing necessary calculations, controlling I/O performance operations, handling communication with management applications, and storing firmware. The PowerVault MD3000i IP SAN was designed to incorporate twin active/active RAID controllers with mirrored cache for high-availability. If one controller should fail, the surviving controller can handle the full processing load until its mate is brought back online.

 
---
Hot-pluggable Technology

 

Dell's PowerVault MD3000i storage array allows you to remove and replace redundant components without disruption to operation. In the rare event of component failure, disk drives, storage controllers, power supplies, and cooling fan modules are all hot-pluggable - you can remove and replace them for easy repair while the system remains up and running. The PowerVault MD3000i enclosure contains two integrated power supply and fan modules - if one is removed the other can handle the demand, virtually eliminating downtime to your storage array

 

 
---
---
---
Virtual Data Products, LLC - P.O. Box 492575,  Lawrenceville, GA 30049 ph 770-995-7298