---
---
Dell PowerVault MD3000i Network Storage Array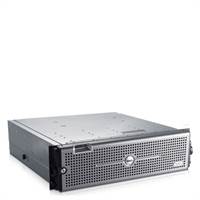 The PowerVault MD3000i networked storage array leverages the modularity and availability of the PowerVault series to deliver an IP network storage solution that can consolidate up to 16 hosts. By extending the connectivity capability of today's MD3000 controller architecture, Dell is able to bring to market a low cost, easy to use, expandable, and highly available iSCSI SAN storage array.
"The use of technology by students and teachers is rapidly growing in our school district, and we're running out of storage faster than we expected. The Dell PowerVault MD3000i storage system eliminates that problem because we can easily keep up with growth in a cost-effective way just by adding new drives when and where we need them."
-Peter Thompson, Manager of Information Technology, Princeton Regional School District
---
Consolidation Without Complexity

 

The PowerVault MD3000i is a high performance

iSCSI

Storage Area Network (SAN) designed to deliver

storage consolidation

and data management capabilities in an easy to use, cost effective solution.

 

• Consolidate up to sixteen (16) fully redundant servers, expand to support up to 45TB of data.

 

 

Entry-level Storage for Virtualized Environments:

Shared storage is required to enable VM mobility the key benefit of a virtual environments. The PowerVault MD3000i is a networked shared storage solution, providing the high availability, expandability and ease of management desired in virtual environments. Leverages existing IP networks and offers small and medium businesses an easy to use iSCSI SANs without the need for extensive training or new expensive infrastructures.